E-Sword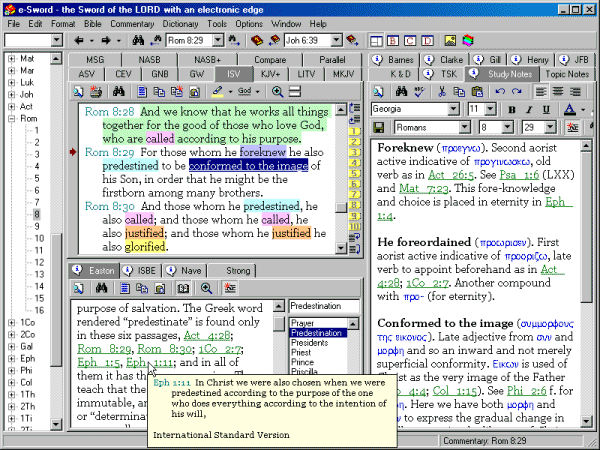 E-Sword is without question the finest Free Bible study software available. For maximum usability, be sure and download the additional Bible versions and study references. Easy to download, easy to install and use. Highly recommended.
The Blue Letter Bible
The Blue Letter Bible is a free online Bible study software program - without downloading an app or program.
Totally FREE KJV Bible Plus Study Tool
Bible Plus - Five Star Rating! Bible Plus is a search tool of the King James Version of the Bible designed for Windows. A lightning fast search engine powers the system. Great for quick and easy searches of the entire Bible (both Old and New Testaments). Bible Plus is FreeWare, and works with ALL versions of Windows from 3.1 to 95/98 and NT. Highly recommended by Brother Dave!
View a screenshot of Luke 2:7-14
View a screenshot of Luke 2:10
Download Bible Plus (2.8MB)
Open Office
Okay, this isn't a Bible study program, but it is a free download of the Open Office Suite of software comparable in quality to programs you'd pay a great deal for otherwise. The suite includes all the major programs a typical office might use, specifically Writer, Calc, Impress, Draw, Base, and Math. Compatible with other major office program suites, without spending hundreds of dollars, and every bit as good.
Steps to God
A very good evangelistic program from Billy Graham Evangelistic Society, in .zip format and under 100k. Download it here, and share it with someone today.
Steps to God
Special thanks to the Billy Graham Evangelistic Society for allowing us to share this program!